What happens if it rains on the day of your family photography session?
As we are coming up to the end of another busy year I have been looking back on some of the most commonly asked questions by families who've been in touch with me to book their session.
One of the most common questions from mums in Surrey this year has been about the weather. No prizes for guessing why!
If you are reading this and you are based in the UK you will know we have had a very wet or drizzly time of it this year, with weather patterns becoming more and more unpredictable than ever before.  By no means am I a 'glass half empty' kind of lady but the reality is nobody wants to book an outdoor event and find that it's spoiled by the rain, especially when it wasn't forecast to rain!
We camped in the rain this summer and it was just (a little bit) miserable!  I am definitely a fair weather camper and most definitely a fair weather photographer too!
So if you are a mum out there who might be a little nervous about investing in an out door family photography session because of the weather, I hope the following info might reassure you.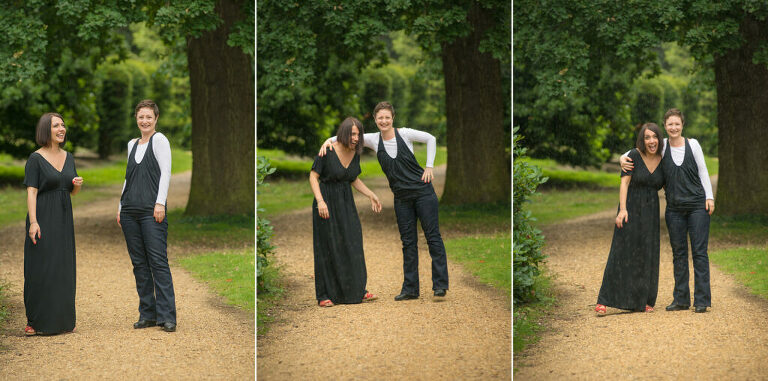 What do we do if it rains?
1. When you book a session with me we immediately pencil in a wet weather contingency date too. We don't want to be pessimistic about the weather but being realistic and having a back up plan already in place, is reassuring for everyone and we won't be left struggling to find a new date if it did rain.
2. The Stats: with over 70% of my family session taking place outdoors, given our recent weather patterns this year, you might think that a few of these session might get rained on?  This year I had just two rainy sessions that had to be rescheduled and one session where it rained very briefly without warning in the middle of the session. That's probably lower than you might otherwise expect!
3. Historically speaking, if it has rained in the middle of our session it usually hasn't lasted for long and running for shelter for a few minutes is usually about as bad it has ever got at one of my sessions in the last 7 years. Cue picture above! The two sisters pictured here were with me for an extended family session (three or four years ago now) and this was one of their last portraits of the day when the heavens opened up on them. The two sisters have told me they actually loved these photographs the most as they loved their spontaneous looks of genuine surprise and laugher at being caught out together in a surprise downfall! Eventually we dashed and sheltered under a big oak tree and by the time the rest of the family returned a few minutes later with coffees and snacks for the children the rain had left us and we finished he session with one last extended family portrait.
4. What if the rain arrives and stays? Depending on every ones schedules we could break for lunch and return later in the day or we could meet again on the families wet weather contingency date to finish the session. So far (touch wood) I haven't had this situation occur (yet) and may it never ever happen at one of my sessions please!
Embracing our wonderful weather:
So there is no way I am going to let a family turn up for an outdoor session if the forecast is for rain!  Dampness and drizzle can actually get pretty cold and miserable, especially in the Spring and Autumn months when the rain is generally very cold: unlike a summery sun shower which can add a bit of unexpected fun to a session. 
However I am constantly surprised at the resilience and enthusiasm of many of the families I photograph in Surrey and Hampshire (and even the Londoners!) who seem to enjoy being outdoors whatever the weather! In the last few years I have photographed some expert puddle jumpers and enjoyed a few 'Kids and their Bikes' sessions in the snow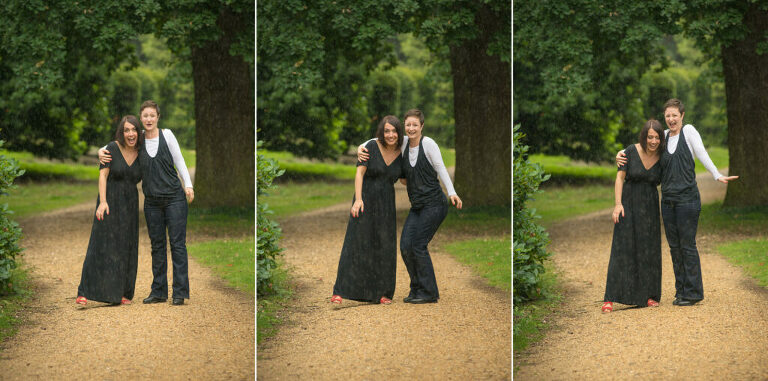 …and bless all of you who tell me you enjoy camping in the rain!
So when you are ready to call me up to book your session, have a few extra dates in mind so we can get a wet weather back up date in the diary as well. And now that you have read this blog post you can be rest assured that I have rarely ever had to use those back up dates …..so no family sessions in the rain and I have my fingers and toes crossed for rain free sessions in the future too ofcourse!