As you will probably know by now I am a children's photographer and I love to portray children at their happiest and most confident. I believe that seeing oneself portrayed confidently in a portrait is self afirming and helps to build and develop a childs self esteem and in turn generates even greater self confidence.
This is one of the main factors that drew me to photograph kids with their bikes. What child doesn't feel confident and happy on a bike? In fact many children, including some very shy children, really do come to life when you ask them to tell you about their bike or to show you how they can ride their bike.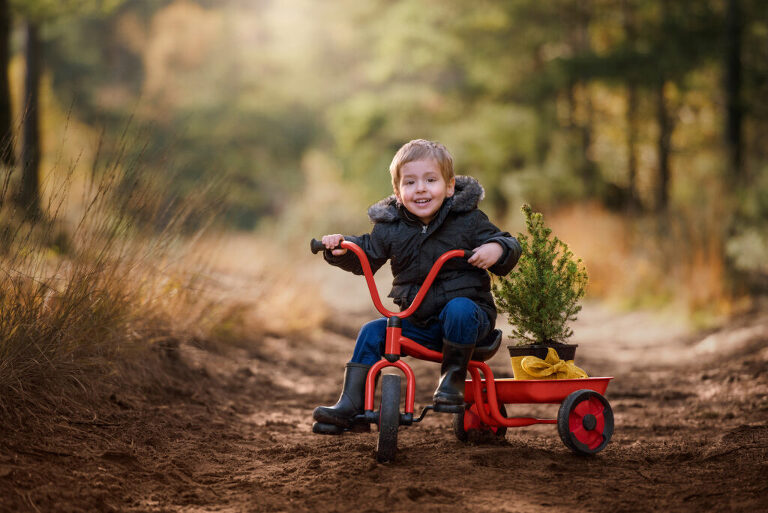 Freddie was no acception. Pictured here enjoying his little red trike for my annual Christmas card session at one of my favourite picturesque Surrey family photography locations. He thoroughly enjoyed showing off his cycling skills and I was very impressed at how he managed to keep that little christmas tree from toppling over, even over some very big bumps and dips along the sandy forrest floor.
And it seems that a bike for Christmas was at the top of many children's wish list this Christmas.  Halfords have reported sales of bikes and scooters have leapt 96%.  They now make up 13-14% of total sales for the company and they reported building 86,000 bikes in the week before Christmas alone! You can read the full article here.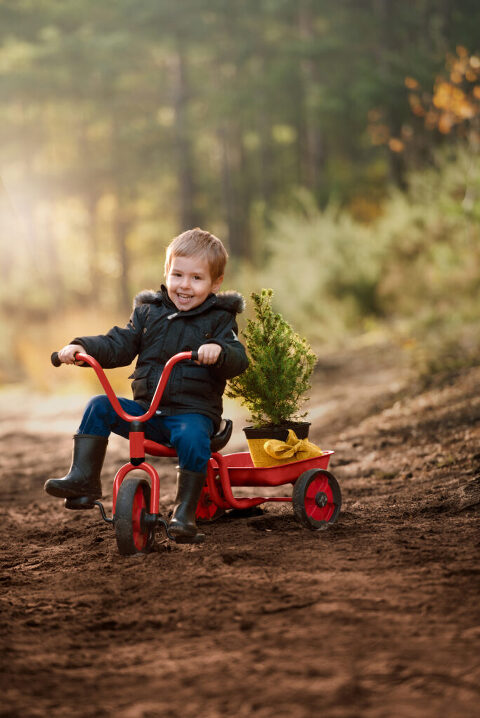 Bikes make kids feel happy and confident, as does being outdoors.
As a parent I am a big fan of seeing children enjoy the outdoors so it is great to know that children are still asking Father Christmas for a bike as we enter the 2020s.
Seeing my own two boys joy at receiving new bikes and learning to ride them, spurred me on to start my project kids and their bikes.
Owning and learning to ride any kind of bike or scooter creates it's own very special set of memories that, I believe, have a lot to do with children experiencing a real sense of confidence, freedom and that feeling of 'being in charge' of their bike and of themselves whilst riding it.
It takes confidence to learn to ride a bike and those positive feelings and that thril of learning to ride will stay with a child into adult.
If your child received a new bike this Christmas and you live in the Surrey / Hampshire regions (or you can travel to the area) then please do get in touch with me if you would like a portrait of your child and their new bike in 2020.
I promise you won't regret the additional investment in having your child portrayed at their happiest and most confident!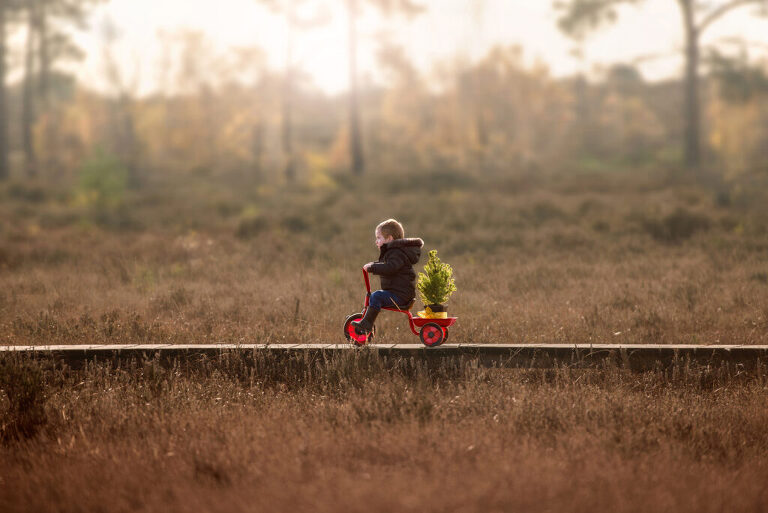 Having your child portrayed with their bike will require a small donation to the wonderful Farnham Bike Ride Charity. : ) You can read more about my project 'Kids and their Bikes' and a link to info about The Farnham Bike Ride Charity here.