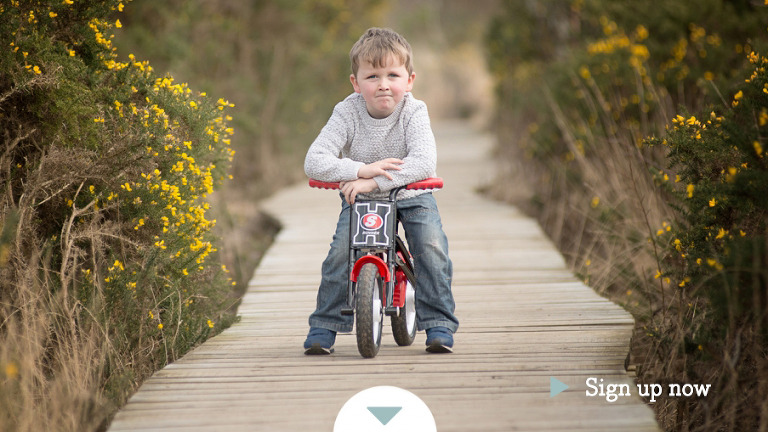 'Kids and their Bikes'  has so far raised:
£560
There is no greater memory than the first time you rode a bike
and that first time you recognised your freedom! Exhilarating wasn't it?
[column-group]
[column]
[/column]
[column]
Welcome to my charitable photography  project 'Kids and their Bikes'!
I am on a quest to find children who absolutely love their
bike to be photographed for a fine art portrait project
portraying the unique bond children have with their bike.
Little and big kids aged 2 – 12 years old from all nursery's
and schools across Farnham are welcome to sign up now >
Well loved bikes, borrowed bikes, hand-me-down bikes,
shiny new bikes, scooters, BMX or racing bikes and little
toddler trikes of any shape or size are all very welcome!
[/column]
[/column-group]
At the heart of this project is The Farnham Bike Ride Charity, raising money for a variety of local charities. You can read more about the Bike Ride  here.

"Sarah ticked every box. So friendly and patient.
She made everyone feel relaxed and we got some
wonderful shots of our children".
[column-group]
[column]
Donate to charity, enjoy a fine art portrait of your child and inspire a life long love of cycling.
You will be asked to make a recommended
minimum donation of £50 (or more) to the Farnham Bike Ride Charity.
Your child will be photographed in a picturesque Surrey
location and you will be given a 16 x 12" Fine Art Print and
the opportunity to buy any additional copies of the images.
20 of the most iconic and inspiring childrens portraits will be
showcased at the Farnham Maltings in 2018 in conjunction
with The Farnham Bike Ride and the Farnham Festival of Cycling.
[/column]
[column]
[/column]
[/column-group]
How do I sign up?
Click here to fill out the sign up form.
The signing up form asks you to include a brief but inspiring few sentences about why your child loves their bike.
This can be written by you or your child so we get to hear about why bike riding is so special to your child.
If you have an idea for a special location for the shoot please include details as well.
Children from nursery, preschool settings, infant, Junior and primary schools are able to apply.
Siblings are also welcome.
How are children selected?
The project is looking to portray children with a real love for riding their bike.
It aims to encompass boys and girls of all ages and backgrounds.
Due to time constraints you may not get a reply straight away but do email and check in if you have been waiting longer than a month for a reply.
I will be photographing children continuously throughout 2018 so reply times may vary depending
on the number of children applying in any given month.
Week day availability during school hours for your child's photo shoot is advantageous.
What happens next?
As soon as session dates become available you will receive an invitation via email with information about your childs photo shoot.
You will be asked to fill out a mini questionnaire so I can find out more about your child before their photo shoot.
You will also be advised about how to make your donation directly to the Farnham Bike Ride Charity.
We will plan location and clothing options.
The shoot, on a weekday or weekend, will last between 30 and 60 minutes.
At the start of the photo shoot I will spend time putting your child at ease. We can have a chat or share a joke
together and they can show off their bike riding skills!
After the session your photographs will be presented in a private online gallery and we will chat via email or meet again to look over the images and choose your favourite to be printed as a 16 x 12″ fine art print.